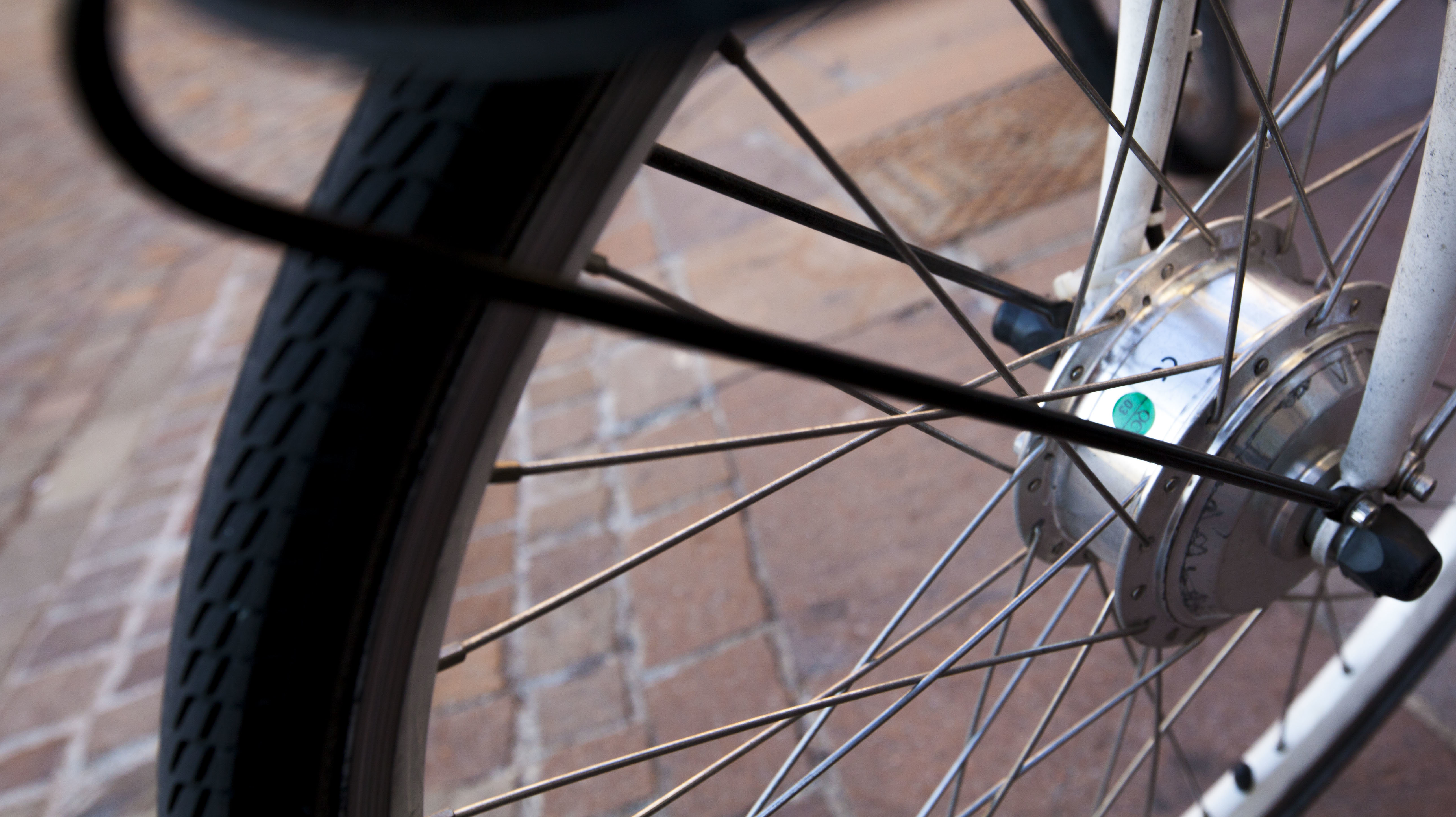 Bicycle transport may be limited on some services. A great alternative: rental bikes!
Taking a bike with you on public transport in South Tyrol is subject to a charge, and the capacity for transporting bikes may be limited for reasons of space and safety. Please note that transporting passengers will always be given priority over bicycles, and that increased passenger numbers may require on-board staff to refuse access with a bike. But there are a number of options and alternatives to choose from.
Day pass to transport a bike: 7 EUR
Day passes for bicycle transport are available from all südtirolmobil ticket machines, ticket offices and sales points. They can be used for unlimited journeys on the day on which you first activate them. Remember to check in at the start of each journey.
Day pass to transport a bike using a Südtirol Pass: 3.50 EUR
Use your Südtirol Pass, Euregio Family Pass or, if you have activated the payment function, any Südtirol Pass abo+ or Südtirol Pass 65+ to conveniently pay for unlimited bike transports within one day. Remember to check in at the start of each journey. The maximum total fare you will pay per day is 3.50 EUR.
These fares apply to all südtirolmobil public transport within South Tyrol and on regional trains all the way to Trento. For train journeys going south beyond Trento, interregional bike tickets are available from Trenitalia. For train journeys going north or east beyond the border, bike tickets are available from ÖBB and VVT for the Austrian leg of your journey (e.g. Brennero/Brenner – Innsbruck or San Candido/Innichen – Lienz).
Separate tickets for transporting bicycles are available for cable-car journeys to Colle/Kohlern, Meltina/Mölten, Verano/Vöran and Maranza/Meransen.
Bicycles that can be transported for free include:
children's bikes (up to 20''),
folded bicycles and unicycles (in the luggage compartment or stowed in a bag when travelling on a bus),
bike trailers: free of charge when travelling on a train; must be detached from the bicycle,
handcycles/recumbent bikes: free of charge when travelling on a train; can only be transported on a bus if there is space in the luggage compartment.
Kick scooters and motorised/electric scooters, as long as they are folded, can generally be carried free of charge as hand luggage. Alternatively, on trains, scooters and e-scooters can also be carried without being folded – at the same rate as for transporting a bicycle.
Transporting bicycles: where and how many?
Regional trains: Transporting bikes is possible as long as there is sufficient space. Regional trains have room for 16-20 bikes in designated compartments. Please note that it is not possible to reserve a space.
A large amount of bicycles on platforms and trains can be problematic and a safety risk. If excessive demand causes safety concerns, the railway staff can limit the number of bicycles transported, and there is no guarantee that all passengers – even those with a valid ticket – can board the train with their bicycles.
During the summer months, due to increased passenger numbers there is a separate bike shuttle service to accompany most train services between Merano/Meran and Malles/Mals. For more information and to book, check out the section below or call +39 0473 201 500.
Regional buses: Transporting bikes is only possible on buses with storage space. Please note that many low-floor access buses have no bicycle stowage and that pedelecs and e-bikes cannot be transported on regional buses.
Bicycle racks with room for around 5-6 bikes are available on the following bus routes from spring until late autumn 2021:
bus 166 Collalbo / Klobenstein - Corno del Renon / Rittner Horn (21 May – 07 November 2021)
bus 273 Malles/Mals – Martina (28 March – 07 November 2021)
bus 245 Merano/Meran – Val d'Ultimo/Ulten – Lana (28 March – 07 November 2021)
bus 184 Passo Costalunga/Karerpass – Pietralba/Weissenstein (12 June – 17 October 2021)
bus 321 Bressanone/Brixen – S. Andrea/St. Andrä – Plancios/Palmschoß (06 April – 01 November 2021)
Due to time constraints, however, bikes cannot be loaded at all stops. Bus routes and stops where bicycles can be loaded are marked with a bike symbol on all südtirolmobil timetables.
Urban and Citybuses: Transporting bicycles is not possible on urban and Citybus services.
südtirolmobil cable-cars: On cable-car services to and from Renon/Ritten, the standard südtirolmobil fares for transporting bikes apply (7 EUR for a day pass or 3.50 EUR with a Südtirol Pass). For cable-car journeys to and from Colle/Kohlern, Meltina/Mölten, Verano/Vöran and Maranza/Meransen, separate tickets must be purchased to transport bicycles.
Renon/Ritten light railway: Bicycle transport is not available on this service.
Venosta/Vinschgau valley: bike transport shuttle service
To avoid overcrowding on trains serving the highly popular Val Venosta/Vinschgau valley, every year, bicycles are transported not by rail but by road during the summer months: with the help of a shuttle service between Merano/Meran and Malles/Mals. This means that during peak hours (from 9:00 to 13:00 and from 15:00 to 17:30) this July, August and September, no bikes can be taken onto the train going towards Malles/Mals by passengers departing from the stations of Merano/Meran, Lagundo/Algund or Marlengo/Marling. Depending on the development of the Coronavirus pandemic, bike shuttle services may start as early as 18 June and continue until 17 October 2021. Stay tuned for more info.
In July, August and September 2021, the bike transport shuttles leave the train station of Merano/Meran:
at 9:16, 10:16 and 11:16 every morning
and at 15:16, 16:16 and 17:16 every afternoon.
Bikes can be dropped off at the station of Merano/Meran 30 minutes before the shuttle leaves. They can be picked up from the train stations of Naturno/Naturns, Laces/Latsch, Silandro/Schlanders, Spondigna/Spondinig and Malles/Mals.
The tickets and costs for the bike shuttle service are the same as for taking a bike on the train: a day pass for transporting bikes (EUR 7) or a simple check-in with a Südtirol Pass (EUR 3.50 for a full day). Bike shuttle service tickets are available from any ticket counter or directly at the shuttle departure point.
Larger groups can book additional bike transport shuttle service runs by calling +39 0473 201500 between 08:00 and 19:00.
A great alternative: rental bikes!
Combine your excursions by bike and public transport: To avoid overcrowding on trains, we have launched a cooperation with private bike rental agencies that includes about two dozen locations at many stations in all of South Tyrol.
The all-rounder ticket: Throughout the warmer season, our bikemobil Card combines public transport in all of South Tyrol and the use of rental bikes for one full day. No need to worry about transporting your bike on busy trains – simply pick up a bike from any one of the many participating locations, explore the surroundings at your leisure and return it at any rental point you like.